She Sets the Wheels in Motion…..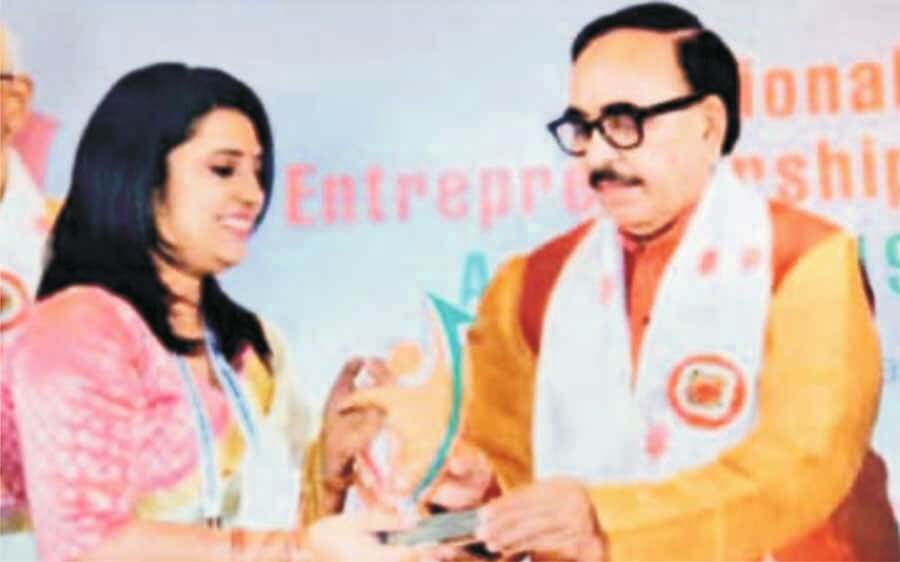 Previous
Next
She started her first venture at the age of 22, failed at the age of 23, bounced
back at 24 and it's a story since……story of resilience, determination and
persistence.
26-year-old Nikita's day starts with setting up her laptop, checking the previous
day's work, coordinating with her team and making her to-do list. Every day
she lists out three most important things for the day and then manages her time
accordingly.
Nikita's family, which is now based in Ahmedabad, originally hails from Bhind,
a town near Gwalior in Madhya Pradesh. Her father was in a transferrable job,
so Nikita was in a new place almost every two years. She says this introduced
the trait of adaptability in her. Till 14 years of age, Nikita had changed seven
schools. On hindsight when she reflects on it, she believes that this made her an
extrovert and a go-getter because at every new place she had to push through to
create her place. She was always advised by her father, whom she idolises, to
focus on the positives and build on these. Driven by this energy, Nikita excelled
in academics and also indulged in her passion for photography.
In the year 2000, Nikita's father decided to settle down in Ahmedabad and
since then she has stayed put in this city, which she says she has come to adore.
Nikita acquired her Graduation degree in B.Com LLB (Hons) from Gujarat
National Law University in the year 2015.
During her graduation, Nikita realised that business is what gelled perfectly well
with her fearless, independent nature and she set out to fructify her dreams of
becoming an entrepreneur. To learn about the discipline, she joined Post
Graduate Diploma in Management – Business Entrepreneurship (PGDM-BE) at
EDII. As she puts it, "I had heard about EDII's PGDM-BE course and a closer
probe into the course curriculum convinced me about joining this Institute."
Recollecting the pleasant memories at the Institute, Nikita admiringly states,
"EDII was instrumental in enabling me to focus my random thoughts into
action. The knowledge, motivational and skill building sessions proved to be the
key reason behind my decision to set up a venture."
Nikita was highly motivated and while pursuing her PGDM-BE course at EDII
she launched her first company named Tilebazzar.com with her brother in the
year 2015. But her first venture met with failure. However, she consulted her
mentors at EDII, learnt and decided not to repeat the mistakes in her future
efforts.
Talking about her first start up failure, she says, "Being a Lawyer and entering
into Ceramic Tiles Manufacturing Industry without any experience was a
different ball game all together, Even though we had exceptional research on
our hand for tilebazzar.com, we failed miserably. At that point, I had two
options with me; either to let go off everything and start afresh or crib about my
failure and withdraw. I believed my failure was about to lead me to a bigger
idea." Nikita focussed on gaining knowledge, and on 13 th June 2016, after
working upon all critical areas, she launched Tatkalorry. It is a teach enabled
company connecting manufacturers, dealers, truck owners and transporters for
flexible ceramic goods deliveries. It is a one-step solution for those looking
forward to availing transportation services for part or full truck load or even for
transporting samples from manufacturers to customers. Tatkalorry aims to
deliver a range of products from industrial, commercial, agricultural to heavy
industries products across India.
Nikita emphasizes on keeping an eye on opportunities, thinking out-of-the-box
and being innovative. This spark in her personality even reflects in the name of
her organization – Tatkalorry, (Tatkal in Hindi means quick or immediate &
Lorry means a transporting vehicle).
Nikita recounts how her training at EDII helped her at every step. In identifying
her business opportunity, she researched the logistics industry, carried out a
market research and studied how the customer preferences had changed. Nikita
settled on Logistics business but was fully aware of the challenges that lay
before her, "Logistics and supply chain management is a service-based industry
which is primarily male dominated. The workforce in this industry comprises
less educated labourers coming from underprivileged strata of society. One does
not find women at any level in this industry. In such a scenario being a woman
entrepreneur in the industry has its own challenges. But I like to take
challenges. Also, to be able to positively influence a great number of lives gives
me immense satisfaction which is why I chose a labour-intensive industry.
Today I feel happy that I chose this field. In my own small way I believe I am
making a difference."
She adds with conspicuous pride, "My belief in entering this area was fortified
by the vision of our Hon'ble Prime Minister Shri Narendra Modi ji during the
Make in India campaign. I was motivated to partake in this manufacturing boom
and decided to contribute by developing an effective logistics and supply chain
management system."
Nikita's aim is to deliver on-demand quality service at competitive price and
back every shipment with outstanding customer support service. The company
has created opportunities for employment for local truck drivers, auto-rickshaw
drivers and other labourers on temporary, contractual, one-time delivery basis.
Tatkalorry also accepts low volumes loads, which the usual truck fleet owners
do not. Her company presently has 50 employees and generated revenue of
over seven crores in 2019-20. She has 60 percent repeat customers which is a
big number given the competition in the logistics market.
In about three years since inception, Tatkalorry has bagged many prestigious
awards. Among the notable one is the National Entrepreneurship Award 2019
by the Ministry of MSME. The company is also the proud recipient of the SSIP
Startup Prashansha Award by Gujarat Government (2019) and the Start Smart
Jury Award West Zone in association with NUJS and NITI Ayog (2018). An
inspiration for both young and established entrepreneurs, Nikita has also been
awarded the Government of Gujarat's Growth Stage Startup Award (2019).
As a logistics and supply chain management company, Tatkalorry is no less
than a boon to the manufacturing industry. As we wished good luck to Nikita,
she signed off on an important note to budding entrepreneurs, "If you see a
problem, focus on its possible solutions because no problem can ever exist
without a solution. We just have to be creative to match the problem with the
solution. It just requires some hard thinking and a creative eye on the
surroundings to spot solutions."
Our compliments to you Nikita….Zoom your pace and meet success
everyday!!!