She Answers Your Prayers….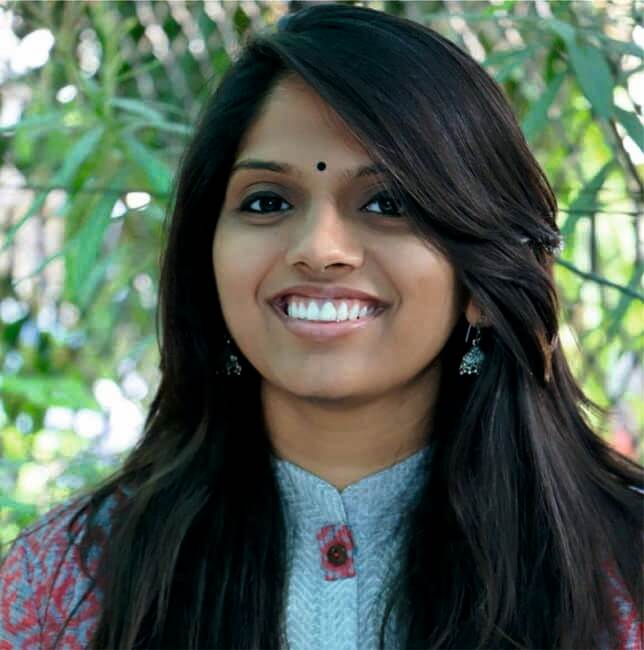 Previous
Next
India's spirit of fraternity is rooted in its spirituality. A country hailed for its
culture and tradition, finds its identity in rituals and customs preceding and
following every big occasion. However, the fact remains that planning and
organizing these rituals consumes a lot of time, energy and money. So, here's
Riya Shah who spotted an opportunity in this dilemma of people. She pitched in
with Easy Puja portal, a one-stop solution for all religious activities.iya nurtured an idea which struck her in one of the most poignant moments of
her life. Riya says, "While studying at EDII, one of my close friends received
the news that one of his relatives from inner family circle, had passed away.R As
the family had recently shifted from Mumbai to Ahmedabad, they did not have
any clue as to whom to contact for completing the rituals. I saw the grieving
family's pain and hassles they undertook in arranging for a pundit and
managing all essentials for holding a Puja. I was pained as I thought of so many
migrant families who would be undergoing the same crises in such conditions. "
That day Riya decided that she had to do something for helping people with
their rituals, ceremonies and rites by bringing the services at their doorstep. She
thought of creating a portal where services of Pundits or priests could be booked
online and thus was born Easy Puja in the year 2015. Riya did detailed research
on Hindu Vedic texts and got in touch with qualified professionals to build a
data base of genuine and educated priests, astrologers and vastu consultants.
People can call or log on to the website to book their service. Easy Puja
provides the services of puja arrangements, which include authenticated Priests
for all castes and communities. The person availing her services does not even
have to bother about the materials required for a ritual. Easy Puja takes care of
all requirements.
Riya completed Bachelors in Business Administration from HL College of
Commerce, Ahmedabad. Her father is into chemical manufacturing business
and mother is a home maker. Riya, after her graduation had started preparation
for Common Admission Test as well as for the entrance exam of other
management institutes. It was her father who suggested EDII to her as he had
always seen that 'entrepreneurial spark' in her. Riya took the exam, cleared it
successfully and enrolled herself in EDII's PGDM-BE course in the year 2014.
As Riya puts it, "I had entered EDII with just a belief that one day I will be an
entrepreneur. But several good things happened to me in the process. I got
introduced to new strengths in me, became my biggest critique and learnt to
develop an inquisitiveness towards the environment. The learnings and the
exposure I received are unparalleled. I developed the confidence to succeed as
an entrepreneur, and the biggest fact was that I came to know I would do my
best in the services sector. " So having got an idea, Riya began her market
research and operations for bringing rituals o the doorstep of people and thus
was born Easy Puja. That she calls her biggest achievement.place trust on a stranger did call for a mindset change. I needed to work on
developing their confidence in me."
On the other hand, as Riya informs, convincing Pundits about the idea was also
a challenge. Pundits scoffed at the idea and some even responded aloud by
saying that it won't work. But Riya's research said that there was a demand and
she continued with her efforts. She met several pundits and devotees and sought
to establish a rapport; simultaneously she worked upon expanding the
geographical boundaries of her business. Her patience and perseverance were
rewarded.
Today she has created a large network of Pundits who are revered for their
knowledge of rituals for various occasions. After establishing her hold on
dealing with happy occasions like; marriages, house warming, birth rituals etc,
Riya stepped into the space from where she had got this idea business idea –
handling rituals related to deaths. Many people advised her against it; saying
that it could just be a bad omen for her. Riya, however, stood her ground and
roped in Pundits for death rituals. She says," I had got my idea from a death and
I had seen how traumatic it could get for a person so how could I not enter this
area. I am glad I did."
Throwing light on her business journey, Riya says, "The initial few months
were all about establishing a network, getting priests registered and
understanding the psyche of people. Getting verified priests on to the platform
was the most difficult part. I personally went from temple to temple, trying to
make them understand how useful it would be for them.".
Riya recalls that her mentors at EDII were her biggest support and imparted
guidance on aspects that she sometimes overlooked. Gradually her family also
came to acknowledge that this business could be her road to success. Her
business required her to work late nights, all seven days a week with no fixed schedule. Not once in all her grueling schedule did she step back. She credits
her family for encouraging her to keep moving on. Riya says, "There weren't
any holidays for me. I was enjoying the journey. Yes, being a woman, going out
late in the night, did worry me but I found my own ways of handling such
situations. I did not want people to say that I forego this business only because
being a woman did not allow me to handle late night assignments." Riya wanted
people to endorse that women can also work odd hours like men and choose
unconventional professions. Riya says, "There is some awareness in big cities,
but it is imperative that these success stories reach households in smaller cities
and villages as well. Other women should feel inspired and thereby show the
courage to step out of the ordinary and do something different."
Riya sailed through and managed things using her knowledge and skills in
entrepreneurship. Today, her turnover stands at close to Rs. 35 lakhs. Riya's
future plan is to offer online puja services so that those who are staying away
from their family can participate in it through video-conferencing and other
ways. She is also working on a mobile app for Easy Puja. Her dream is to
capture a major part of the market with her convenient services. Riya has
stayed put amidst doubts, problems and hardships. She finally conquered it all.
Easy Puja is listed in Trade India's list of verified companies. This young
entrepreneur sure thinks different and, therefore, success is inevitable.
Congratulations Riya….we wish you success and a bright name in the
industry!!!